Trans Am Piping Products Ltd.
Based in Alberta, Canada, Trans Am Piping Products Ltd. has been a major distributor of quality carbon steel piping components since 1975. They have distribution centers in Calgary and Edmonton and offer a complete inventory of seamless pipe, weld fittings, forged fittings, forged flanges and related piping components. Their unique infrastructure and high level of technical expertise allows them to effectively distribute piping products to different industries and market segments. Within the oil and gas industry, they supply major projects, midstream operations, manufacturers of natural gas compression and processing equipment, module fabricators and oilfield supply companies.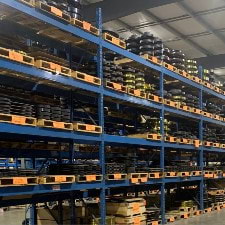 Trans Am Piping Products has been a long-time user of IBM i and Power Systems to run their operations. Their entire application suite, including the most critical applications for sales, inventory, material reports, chemical compositions and more, all run on IBM i. They have a small IT team and take advantage of the highly automated capabilities of the IBM i and Power Systems platform to keep their environment and applications up and running.

The company recently undertook a project to completely revamp their customer facing website to improve the user experience for their clients and increase leads and revenue through the digital channel. They turned to IBM Champion for Power Systems Alan Seiden and his team at the Seiden Group for guidance with modernizing their website using PHP on IBM i. Alan helped them implement Seiden CommunityPlus+ PHP on IBM i for both the front-end and back-end of the website and guided them step by step through the entire project. They were able to keep their existing business logic while still modernizing the user experience.
Since deploying the new version of their website, Trans Am Piping Products has seen an increase in client traffic to the new page and a decrease in calls asking for basic information on products, helping to greatly improve the productivity for their teams. The improved user experience has received praise from both clients and senior executives at the company alike. The next phase of the modernization project will allow clients to order products directly on the website, streamlining the customer experience even further and allowing their service teams to focus on other higher-value tasks for the business. Trans Am Piping Products is looking forward to continuing their partnership with Seiden Group for future modernization projects with PHP on IBM i.