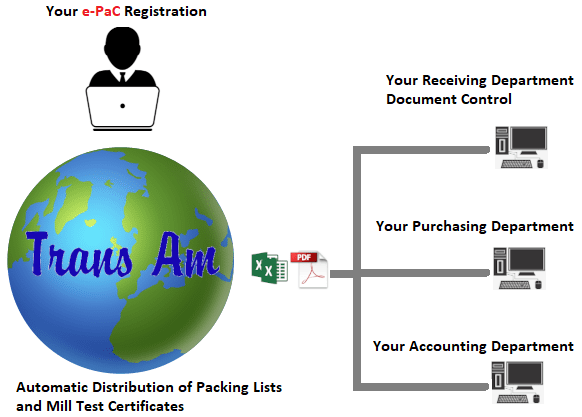 E-PAC Services
Trans Am is pleased to offer "E-PAC" service. Upon the shipment of your order, we will automatically transmit the images of your Mill Test Certificates and Packing Lists, or Packing Lists only, to you via e-mail. These images can be sent to as many locations as you like (Receiving, Document Control, Purchasing, Accounting, Technical Data etc.).
You then have the option of viewing these images on the screen, printing them, or archiving them to your choice of media. This facility may also be used to request copies of previous documentation.
"Sign Up" and fill out the form on the next page to start receiving this service.
"Request E-PAC" (you must sign up first) Trans AM is pleased to offer the service of resending E-PAC's.
If you have any questions please contact your Trans Am representative directly or visit our Contacts Page for a list of other contacts.